.
New Zealand election: voting begins as Ardern and English fight closest battle in years | World news | The Guardian

A dog waits outside a polling station during the general election in Auckland Photograph: Nigel Marple/Reuters
theguardian.com – New Zealand election: voting begins as Ardern and English fight closest battle in years. Jacinda Ardern's revitalised Labour party is looking to upset prime minister Bill English's plans for a fourth term for National
Follow all the results on our live blog
Voting has opened in New Zealand's most exciting general election in years, with New Zealanders asked to decide between the status quo of National or taking a punt on new Labour leader Jacinda Ardern

The 2017 New Zealand general election will always belong to Jacinda Ardern

Polling booths opened in libraries, schools and town halls around the country at 9am (9pm Friday GMT) and will close at 7pm, after which results begin to roll in immediately.

A record number of voters have already cast their vote since booths opened in selected areas on 11 September.

More than 1.2 million people cast an early vote this year, compared with 717, 579 in 2014.. On Friday long lines were reported at polling booths around the country in what the electoral commission has just confirmed was the biggest day of advance voting on record with 253, 473 casting their vote.

The commission estimates 3,569,830 New Zealanders are eligible to vote this year.

Bill English serves ice creams in Pokeno, on the last day of the campaign. Photograph: Mark Mitchell/AP

Archaic legislation bans campaigning in any form on voting day itself, including banners, T-shirts and roadside advertising. New Zealand media is banned from publishing any politics-related articles other than how and where to vote.

Even members of the public are unable to discuss their voting choices on social media until the polls close, in case they influence those who have yet to cast their ballot.

New Zealanders are being asked to choose between prime minister Bill English's National party, which has had nine years at the tiller; Jacinda Ardern, just seven weeks into her leadership of a revitalised Labour party; the Greens, or one of the plethora of smaller parties, which include New Zealand First, the Opportunities party, the Maori party, Act and the New Zealand Outdoors party.

With the 120 seats in parliament elected via constituency and party lists, coalitions – formal or otherwise – are the norm and English or Ardern could be forced to court a kingmaker. According to opinion polls, that could be Winston Peters, leader of the populist, anti-immigration New Zealand First.

New Zealand election: polls give Bill English reasons to be cheerful despite 'Jacinda effect'

foto – New Zealand's prime minister, Bill English

Two months ago the crawl towards the general election was looking pre-determined. National, led by ex-finance minister English, was polling well and looked set to be returned comfortably to a fourth term in government.

Labour's Andrew Little had failed to connect with voters, and on 1 August he stepped down as leader, nominating his 37-year-old deputy Jacinda Ardern to take his place – although she had previously said she had no interest in the job.

But within days Ardern's campaign of "relentless positivity" set fire to the political landscape. Labour soared in the polls, climbing 20 points in a matter of weeks to overtake National as the preferred party, with Ardern ahead of English as preferred prime minister.

"The Jacinda effect, also known as Jacindamania, has been looming for a long time because she is a politician who has been a rising star and someone with a strong X-factor and charismatic personality for a few years now," said Bryce Edwards, a political commentator.

"At this point the Labour party seems to have gone from a grey old party with a lot of doom and gloom about them, to a party of Corbyn-esque excitement and similar support."

The UK Labour leader Jeremy Corbyn recently sent Ardern a video message of support, urging her to win "for all of us".

Jeremy Corbyn back's New Zealand's Jacinda Ardern in video taken by fan

However, in the last 10 days of campaigning, Labour's momentum has began to falter and it has dropped seven to 10 points in the last three major polls.

The opposition's campaign suffered significant damage when Ardern announced a tax working group would be set up to explore how best to tackle the country's housing crisis, refusing to rule out the introduction of new taxes.

A later clarification that no new taxes would be introduced before the next election in 2020 was not enough to stop National from seizing the chance to launch an assault on the party's economic credibility, claiming there was a NZ$11.7bn (AU$10.7bn/£6.3bn) hole in Labour's fiscal plan. It was a claim not backed by a single economist, but one English rolled on with.

National, which has promised NZ$2bn of tax-cuts for middle-income earners, also claimed Labour would raise income tax – a charge Ardern labelled "scaremongering" and "lies".

In the final week the Labour leader pleaded with young New Zealanders – who, alongside women, are her most loyal supporters – to get out and vote.

"We have called and knocked on thousands of doors and now we're at the critical moment," she said. "If you've seen any of the polls you know this is an election that is going to come down to turnout … please, please make sure you vote."

For many New Zealanders the twists and turns of the 2017 election campaign have been unsettling, rather than exciting. Many are reluctant to upset the status quo, which has seen New Zealand's economy survive the global financial crisis and two major earthquakes.

Tamati McLean, 38, a meat-worker from Bulls in the north island, told the Guardian he plans to vote for English because he does not trust Labour to deliver on its promises, which include eradicating child poverty, building 100,000 affordable homes in 10 years, and introducing a water tax.

"Jacinda has been saying all these things but until I see it with my own eyes I am sticking with National," he said. "I need to see it with my own eyes to become real, and with National, I have seen it – so I believe it."

Follow the results as they come in on our live blog

'I've got what it takes': will Jacinda Ardern be New Zealand's next prime minister?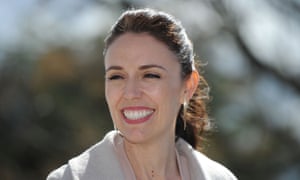 Sorgente: New Zealand election: voting begins as Ardern and English fight closest battle in years | World news | The Guardian