.
The Snap: election day has arrived. Here's how to get through it | Politics | The Guardian

theguardian.com – The Snap: election day has arrived. Here's how to get through itHow to plan results night … politicians make final pitch, newspapers fling final panic … and what the opinion polls are saying as the real polls open – Claire Phipps
What's happening?
Live UK general election 2017: voting opens with final polls pointing to Tory win – live
It's been the least snappy of snap elections but we're here. The polls open at 7am – organised postal voters aside – with bolstered security in the wake of attacks on Manchester and London. In the capital, Scotland Yard says: "Every borough will have a specific, dedicated policing operation."
There will also very likely be rain. Conventional punditry would tell you that means lower turnout and bad news for Labour because young people are more prone to dissolving. But a Guardian fact-check for the 2012 local elections found that to be a myth (the rain = low turnout line; further studies are needed on young people's solubility).
It will also be quieter. Politicians have made their final pitches. Newspapers have flung out their final panic-poster front pages. Broadcasting rules means TV and radio will be almost politics-free. (You can still get your fill on the live blog, which will steer you through the coming hours of insistently cheerful politicians exiting polling stations; and through the night as possibly less cheerful politicians insist everything is going precisely as they expected.)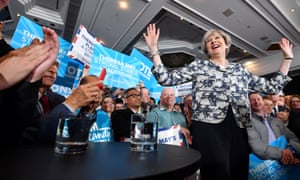 Theresa May – who made more than half of her campaign stops in Labour-held seats, Guardian analysis shows, although not necessarily meeting many non-Tories while there – decided at the start of this seven-week audition that this was to be the Brexit election and on the eve of the election, she was sticking to that. "Fiercely patriotic" former Labour or Ukip voters should, she said, swing Conservative to "fulfil the promise of Brexit together".
Jeremy Corbyn, on the other hand, decided at the start that this was not to be the Brexit election and on the eve of the election, he was sticking to that. With Britain's departure from the EU all over bar the two years of protracted squabbling, Labour wants voters' focus to be on public services. At a final rally in Islington's Union Chapel, Corbyn hailed victory – which might be a move to No 10 or something else:
Hope that it does not have to be like this. That inequities can be tackled. That austerity can be ended. That you can stand up to the elites and the cynics … This is the new mainstream, and we have staked it out and made it our own, together.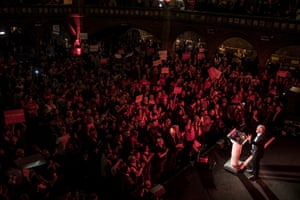 It wasn't all hope and change, though, with shadow chancellor John McDonnell accusing the Tories, in an interview with the Guardian, of running a campaign that was the "exact reflection" of Zac Goldsmith's London mayoral bid, widely denounced as damaging and divisive:
It is lie after lie and lie, and by the time you've corrected it, it's gone round the world.
And what of the Lib Dems, with their pro-remain campaign remaining firmly in the 10%-or-below polling numbers? Think tactically, urged Tim Farron:
If you support Labour in a seat where only the Liberal Democrats can beat the Conservatives, I need you to lend us your vote.
The Lib Dems have their eye on St Albans and Vauxhall, as well as gains in Scotland where – with just one seat won in 2015, as with Labour and the Conservatives – the only way is up (as long as you don't consider the other way).
Conversely, for the SNP, which took 56 of Scotland's 59 seats two years ago, things can only get lesser. Despite topping every opinion poll, the party could find itself a winner with a dozen fewer seats, with even Westminster leader Angus Robertson's Moray thought to be teetering.
While you're here
Unlike many news organisations, the Guardian hasn't put up a paywall – we want to keep our journalism as open as we can. The Guardian's independent, investigative journalism takes a lot of time, money and hard work to produce. Here's how you can support it.
At a glance:
And to plan your night ahead:
Snacks are your own responsibility.
Poll position
Deep breath.
An inundation of last-minute opinion polls agree on one thing: a Tory lead on vote share. At the squeaky end of the range is Survation, pegging the Conservatives on 41.3% and Labour on 40.4%.
A good hollering distance away are ICM, which predicts a 12-point Tory lead (46% to 34%), and BMG, which makes it 13 (46% v 33%).
The inbetweeners are Kantar TNS (five points), YouGov and Opinium (both seven), Panelbase (eight) and ComRes (10). All Tory leads, in case you were wondering. And all have the Lib Dems doodling on between 7% and 10%.
On Scottish Westminster voting intention, BMG for the Herald pins it at the SNP on 42%, Conservatives on 27% and Labour on 21%. Survation mixes it up a bit with the SNP on 39%, Labour leapfrogging to 29% and the Tories on 26%.
We might get an Ipsos Mori poll today. Other than that, we wait for the exit poll, coordinated for the BBC, ITV and Sky News by Professor John Curtice, at the bong of 10pm. (For the nitty-gritty of how that poll is put together, check here.)
And then we're off …
Read theseOn Buzzfeed, Jim Waterson and Emily Dugan report that the Conservatives are making use of a loophole that means anti-Corbyn ads targeted at constituencies can be funded by national spending (budget: up to £19m) rather than local limits (as low as £12,000):
'If it's promoting the national party and national policies, then regardless of whether it mentions the constituency name or not, it's national spend,' an Electoral Commission spokesperson told BuzzFeed News, adding that the situation is different if it talks 'about a candidate's views and a candidate's policies'.
The end result is that Conservative paid-for Facebook ads that only appear to voters in a single targeted constituency and look remarkably like localised adverts can be legally counted as national spending. In one example from Westminster North, obtained by BuzzFeed News, the advert repeatedly mentions 'your constituency', features the words 'Westminster North' in the graphic, and emphasises that local voters in the constituency could determine who gets into Downing Street.
Annabelle Dickson and Tom McTague, at Politico, say the Labour leader might have a secret weapon of his own:
'If we are to believe what the polls are telling us, the group that has swung to Labour the most is actually the group most likely to be Tory – wealthy older voters in the southeast and southwest,' said pollster Andrew Cooper…
This demographic is likely to have children or grandchildren who are hoping to go to university, making Labour's promise to scrap tuition fees particularly attractive.
They are also likely to have parents in or approaching retirement, who face the prospect of losing a big chunk of their inheritance under Theresa May's 'dementia tax' plan to pay for social care from the proceeds of people's homes when they die.
Revelation of the day
With Sunderland's traditional helter-skelter to declare three (usually) safe Labour seats, and with three women – Bridget Phillipson, Julie Elliott and Sharon Hodgson – as the party's candidates there, there is likely to be a moment tonight when the House of Commons is 100% female.
The day in a tweet
Mollie Goodfellow
✔
@hansmollman
It was 2am BORIS
And another thing
Would you like to wake up on Friday morning with an election catchup in your inbox? Then sign up here. And once the election is (finally) over, the Snap will be too. So why not sign up for the Guardian morning briefing; you can read the latest edition here.
Comments are open on the politics live blog.
UK general election 2017 live: voting opens with final polls pointing to Tory win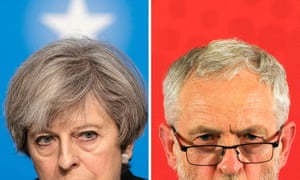 Sorgente: The Snap: election day has arrived. Here's how to get through it | Politics | The Guardian