.
London mosque attack: driver shouted 'I want to kill Muslims,' witness says | UK news | The Guardian

theguardian.com – London mosque attack: driver shouted 'I want to kill Muslims,' witness says. One arrest made after vehicle is reported to have run over worshippers early on Monday – Vikram Dodd
video – Aftermath of crash when vehicle hit mosque worshippers in London
Police are investigating a potential terror attack in London after a van ploughed into people near a north London mosque, killing one man and injuring eight others.
The prime minister, Theresa May, was woken to be told of the early morning incident at Finsbury Park and has confirmed that counter-terrorism command is leading an active inquiry.
Officers are investigating multiple reports from the scene that the van drove intentionally into a crowd, members of which had recently left prayers at the nearby Finsbury Park mosque.
A witness said the driver had shouted "I want to kill Muslims" before onlookers pinned him to the ground.
Police confirmed reports that members of the public had detained a man, believed to be the driver, who was said to have gestured to onlookers after he was handed over to officers.
The fatal van attack in north London
In an early morning statement, May said police were treating the van incident as a potential terrorist attack. She said: "I will chair an emergency meeting later this morning. All my thoughts are with the victims, their families and the emergency services on the scene."
Armed officers were deployed at the scene as a precaution.
The mayor of London, Sadiq Khan, denounced the incident as "a horrific terrorist attack on innocent people in Finsbury Park. We don't yet know the full details, but this was clearly a deliberate attack on innocent Londoners, many of whom were finishing prayers during the holy month of Ramadan.
"While this appears to be an attack on a particular community, like the terrible attacks in Manchester, Westminster and London Bridge it is also an assault on all our shared values of tolerance, freedom and respect."
The attack took place outside the Muslim Welfare House, a few hundred metres away from the Finsbury Park mosque. It was the third recent incident in London in which a vehicle has been used to kill, and Muslims who gathered in the area talked of fears of being targeted in hate attacks.
Police initially released a brief statement on the incident. Nearly four hours later they added more information:
"Officers attended alongside other emergency services and found and tended to a number of casualties. One man was pronounced dead at the scene. Officers are in the process of informing next of kin. A postmortem examination will be scheduled due course. Eight people injured were taken to three separate hospitals; two people were treated at the scene for minor injuries.
"At this stage there are no reports of any persons having suffered any knife injuries. The driver of the van – a man aged 48 – was found detained by members of public at the scene and then arrested by police in connection with the incident. He has been taken to hospital as a precaution, and will be taken into custody once discharged. He will also be subject of a mental health assessment in due course."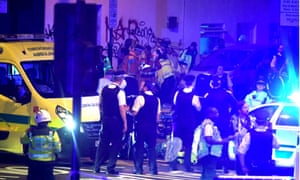 The London ambulance service said a "number of resources have been sent to the scene in Seven Sisters Road". Kevin Bate, its deputy director of operations, said: "We have sent a number of ambulance crews, advance paramedics and specialist responses teams to the scene. An advance trauma team from London's air ambulance has also been dispatched by car."
The Muslim Council of Britain initially said worshippers were among the casualties. A tweet from the MCB said: "We have been informed that a van has run over worshippers as they left #finsburyparkmosque."
The council later released a statement saying it was aware that people were describing the incident as a terror attack.
Harun Khan, the secretary general of the MCB, said: "During the night, ordinary British citizens were set upon while they were going about their lives, completing their night worship. My prayers are with the victims and their families."
Images and video posted to Twitter showed police vehicles blocking the street and a cordon in place. More than a dozen emergency vehicles could be seen near the UKCG Help Centre at the junction of Seven Sisters Road and the A503 Tollington Road.
One witness, who wanted to be identified as Abdulrahman, which is not his real name, said he and his friends had stopped to help an elderly man who was lying on the floor at about 12.20am on Monday.
"In seconds this terrible thing happened,"' he told the Press Association. "Literally within a minute, a van with speed turned to where we were and ran over the man who was laying on the floor and the people around him, around eight people or 10 people got injured, some of them seriously. Thank God I'm safe, but my friends got injured."
The van driver, described by witnesses as a large white man, was detained by members of the public after the attack in Seven Sisters Road.
Abdulrahman said: "I managed to get the driver of the van when he came out of his van. He wanted to run away and was saying, 'I want to kill Muslims'. So he came back to the main road and I managed to get him to the ground and me and some other guys managed to hold him until the police arrived, for about 20 minutes I think, until the police arrived.
"People were very upset, people were shouting, people were saying, 'where's the police, where's the ambulance?' People were saying, 'keep him on the ground', people were asking questions, saying 'why did you do this?' People were laying down on the floor."
Abdulrahman claimed the driver said "kill me", as he was holding his head on the ground.
He added: "I said, 'tell me why did you try driving to kill innocent people?' When he went into the [police] van he made gestures, he was laughing. He deliberately did this. He caused this incident."
One resident told the Press Association he jumped out of the way as the van struck pedestrians. The man, who did not want to be named, said: "The gentleman went straight down this road, people were just conversing, talking, just doing what we're doing.
"And he just came into all of us. There was a lot of people. We got told to move straight away. I was shocked, shocked, shocked. There were bodies around me. Thank God I just moved to the side, I just jumped. Everyone is hurt. Everyone is actually hurt."
Boubou Sougou, 23, saw the van mount the pavement and mow people downwhile travelling at speed. "It was deliberate, it was not an accident," he said.
Another witness, Abdikadar Warfa, told the Guardian he and and others caught hold of the van driver, who threw kicks and punches as he tried to escape. He said: "He tried to run away, he tried to escape. Some people were hitting him. He was fighting to run away.
"I heard the sound of the van crashing. One person was under the van,
some were run over. My friend said he had to lift the van. I was busy with a man who tried to escape. My friend said he said some words, but I didn't hear it."
One witness, who asked not to be named by the Guardian, said: "I was sitting in a cafe. My cousin was injured, he's in hospital now. Someone told me two people were stuck under the van. People tried to lift the van up. Police were quick to the scene."
One woman who lives opposite the scene told the BBC: "From the window, I started hearing a lot of yelling and screeching, a lot of chaos outside. Everybody was shouting, 'a van's hit people, a van's hit people'."
The incident happened in Labour leader Jeremy Corbyn's Islington North constituency. He released a statement on Twitter expressing his shock:
Jeremy Corbyn

✔

@jeremycorbyn

I'm totally shocked at the incident at Finsbury Park tonight.

Home secretary Amber Rudd issued a statement saying: "My thoughts are with all those affected by the appalling incident at Finsbury Park. I am in contact with the Metropolitan police who have confirmed it is being investigated by their counter-terrorism command.

"Yesterday, like so many others around the country, I took part in the Great Get Together to celebrate the values of Jo Cox. It was powerful and moving to see the community come together in a show of solidarity. We must all continue to stand together, resolute, against all those who try to divide us and spread hate and fear."

The Finsbury Park attack comes after two attacks in London in which pedestrians were struck by vehicles. The first was in Westminster in March and and the second was a fortnight ago in London Bridge.

A helicopter could be heard circling over Finsbury Park and police have cordoned off the area.

The suspected attack came during the Muslim holy month of Ramadan, and the Finsbury Park area, home to two mosques, had worshippers on the streets.

Among Britain's Muslim communities there are fears that they are being targeted for Islamophobic hate crimes and the authorities do not take such incidents seriously enough.

A spike in hate crimes was reported after the London Bridge attack, just over a fortnight ago. Security officials and senior police officers are in private acutely aware of the need to protect Muslim communities from any "backlash". Extremists on the far right and those following an extremist Islamist ideology want to drive a wedge between British Muslims and other communities.
Sorgente: London mosque attack: driver shouted 'I want to kill Muslims,' witness says | UK news | The Guardian