Mosul's children were shouting beneath the rubble. Nobody came | World news | The Guardian

theguardian.com – Mosul's children were shouting beneath the rubble. Nobody came. Coalition bombs buried more than a hundred people in the ruins of three houses and raised fresh questions about US rules of engagement – Martin Chulov in Mosul
By the time rescuers finally arrived no one was left alive. For almost a week desperate neighbours had scraped through the rubble, searching for as many as 130 people who lay buried after three homes in a west Mosul suburb were destroyed by coalition airstrikes.

The full picture of the carnage continued to emerge on Friday, when at least 20 bodies were recovered. Dozens more are thought to remain buried in what could turn out to be the single most deadly incident for civilians in the war against Islamic State (Isis).

Rescuers at the scene in the suburb of Mosul Jadida said they had driven the 250 miles from Baghdad but had not been able to enter the area until Wednesday, five days after airstrikes hit the houses where local residents had been sheltering from fierce fighting between Iraqi forces and Isis.

Neighbours said at least 80 bodies had been recovered from one house alone, where people had been encouraged by local elders to take shelter. Rescuers were continuing to dig through the ruins, and the remains of two other houses nearby, which had also been pulverised in attacks that were described as "relentless and horrifying".

The US military said it was launching an investigation. Cololnel Joseph Scrocca, from the US-led command in Baghdad, said "the coalition has opened a formal civilian casualty credibility assessment on this allegation" from Mosul.

The destruction took place in a district that was last week a frontline in the battle for Mosul. Locals said militants had positioned a sniper on the roof of the home that had sheltered the largest number of people. It has raised fresh questions about rules of engagement in the war against the terror group, after two recent US airstrikes in Syria resulted in at least 90 casualties, nearly all of them thought to be civilian.

Residents in Mosul Jadida say no Isis members were hiding among the civilians, although dozens of militants had been attempting to defend the area from an attack by Iraqi special forces.

Members of an Iraqi rescue crew dig through the rubble of a house in western Mosul. Photograph: Cengiz Yar

"We all know each other, and most of us are related," said Majid al-Najim, 65, as he stood next to the corpse of his nephew in a local cemetery. Gravediggers prepared the man's grave as people wept around him. "And all of the families were in one of three houses. We are from the Jabour, Dulaim and Tai families. On that day, the airstrikes started around 8am. We originally hid in that house, but we left before the planes came back. There was three hours between us and death."

"The days after were horrible. There were children shouting under the rubble. Nobody came to help them. The police told us yesterday that there was nothing they could do."

Another man, Thanom Hander, who sat watching a digger scrape through twisted piles of masonry and metal, said his son and daughter-in-law had been the only two survivors locals had been able to rescue. The couple's two children died in the attack, and his daughter-in-law had lost both her legs.

"They thought the basement was safe," he said. "That morning, I heard the bombing, and I ran to the house. There were civilians shouting. There was nothing I could do."

Speaking from the clinic where he was being treated, the man's son Ali Hander said: "There was a lot of bombing above us, and then I started to feel everything collapse around us. We were buried for 10 hours until the neighbours dug us out. I lost my children."

Graphic: Dozens of civilians died on one day of coalition air strikes on the suburb of Mosul Jadida

Guardian graphic | Source: Institute for the Study of War
Isis has been widely accused of using civilians as human shields by positioning guns and fighters on top of houses. Most residents at the scene said that while the group's members were indeed on the roof of at least one of the homes, those who took shelter below did so willingly.
Mustafa Alwan, a local shopkeeper disagreed. "My cousin and my sister went to that house," he said, pointing at hulking ruins being methodically probed by diggers. "Isis forced them to go there. They pointed guns at them and made them enter. I lost them both."
Another man, Subhan Ismail Ibrahim, said his wife and three children had been killed in the same house. "One child was four, the other one year old and the third less than three months. Speaking with a stony calm, he added: "I have lost them all, and the world must know what happened to them."
Iraqi officers have been largely responsible for requesting airstrikes, which are then coordinated with US-run operations centres after approval from senior commanders. Coalition air spotters often guide the bombs to designated targets.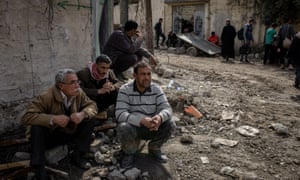 Donald Trump earlier this year ordered a review of rules of engagement set by his predecessor, which had insisted on "near certainty" that there be no civilian casualties before airstrikes could be sanctioned. While it has not yet been completed, there are mounting concerns that the very fact a review has been ordered may have already led to the threshold being lowered.
In response to an earlier query about the reported mass-casualty airstrike on Raqqa this week, the US military command in Iraq denied any "recent changes in operational procedures for approving airstrikes under the past or current administration". But it said that in December, the war's commander, Lt Gen Stephen Townsend, "delegated approval authority for certain strikes to battlefield commanders" in order to accelerate aid to Iraqi forces facing a grueling battle in Mosul. Those strikes "were still subject to the same scrutiny and due diligence," the command said.
At the graveyard, Majid al-Najim said: "Is an Isis sniper being on a roof enough of a reason to send a plane with a large bomb to destroy a house? They hit it many times. They wanted to destroy everything inside.
"Then after that, we needed equipment to rescue the people. Just one bulldozer. Anything. The corrupt government officials could not help us, and would not if they could. This is an enormous crime."
In a nearby Iraqi base, a special forces major shifted uncomfortably when details of the disaster were relayed to him. "This is not in our area and we know nothing about it," he said. "We have lost people too, around 20 colleagues fighting an enemy of all the people." After a while, he shrugged and said: "What can we do? It's war."
Additional reporting by Salem Rizk and Spencer Ackerman in New York
Topics
Sorgente: Mosul's children were shouting beneath the rubble. Nobody came | World news | The Guardian